Alexander Pushkin-what is he like? What do we know about it today? After studying the writer's work, analyzing his entire life by day, Pushkin scholars have not come to a single conclusion. Having divided his works into quotations and written kilometers of school essays, he remained unknown to many.
I am against cliches and formalism. Especially when it comes to the sublime. He was not just talented: such geniuses are rare visitors in our world. In the works of Pushkin, everyone can find a response to their most burning question, Alexander Sergeevich was a master of answers.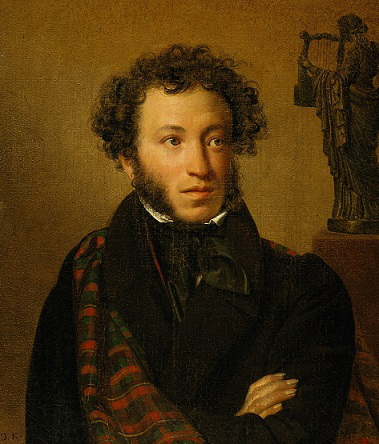 Pushkin and the state: 'I don't appreciate high-profile rights/From which more than one dizzy'
An infinite optimist who considers life a 'direct living joy', Pushkin is close and understandable to anyone. Patriot to the core, he 'devoted his soul to the Motherland beautiful impulses'. However, being incredibly prescient, Pushkin comes out with a sharp criticism of the coveted democracy. Reading his article 'John Tanner', dated 1836 (!), I can't help feeling that he is analyzing the current political situation. The poet sees a society in which there is 'disgusting cynicism', 'cruel prejudice' and 'intolerable tyranny'. Like any adequate person, Pushkin is characterized by empathy for talent, which 'out of respect for equality forces itself to voluntary ostracism'.
Isn't this the same 'equality' that Tommaso Campanella called for in the 16th century in his utopian treatise 'City of the Sun'? Humanity has not understood the hint here about the danger of blind equalization.
Analyzing world history, Pushkin comes to the conclusion that 'under all types of government, people were subject to a minority'. So the very democratic form of government, which is based on the method of collective decision-making, seems to be devoid of grounds...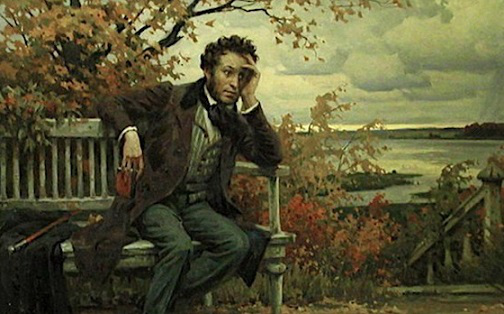 Pushkin and the Emperor: 'You are rich, I am very poor'
'Liberal, revolutionary, conspirator', as Pushkin described himself, he was in his early youth. At that time, the recklessness of Tsarskoye Selo's freedom, which had not yet cooled down, called for 'feats'. Being a twenty-year-old hooligan, Alexander Pushkin allows himself an ode 'You and I', which points to the Gulf separating him and the Emperor Alexander I. In it, he very boldly criticizes the autocrat, who lives 'in a huge house, having no worries in the age 'surrounded by' slaves of the crowd', contrasting himself, who is 'like death and thin and pale'. What follows is a very unambiguous and hardly decent description of the types of toilet paper, as well as the methods used in setting natural needs.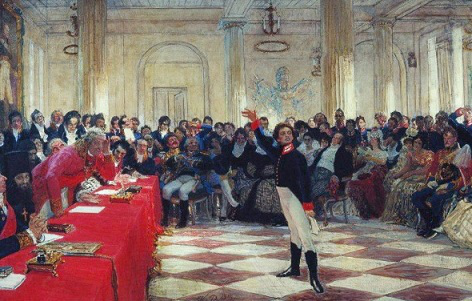 Completely different, Mature and reasonable, appears before us Pushkin, who is already under 30. An important role in this was played by his personal communication with Nicholas I, who ascended the throne after Alexander I, stained with the blood of parricide.
According to the poet himself, it is to Nicholas I that he is obliged to 'turn his thoughts to a more correct and reasonable path', which he would have been looking for for a long time.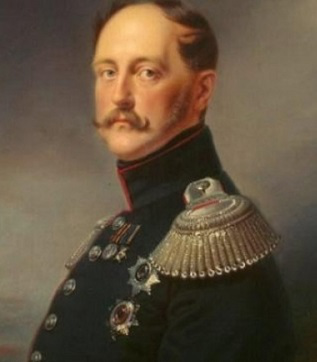 Let's not forget also about his meeting with Natalia Goncharova, with whom he fell in love at first sight and-alas! - got rejected. Desperately experiencing the inability to get close to the beauty (she was 16 at the time, and her relatives flatly refused Pushkin's request for marriage), the poet goes to the active army in the Caucasus. However ,he will not be able to' forget the proud, tormenting maiden', and after repeated matchmaking, the personal life of a ladies ' man and a connoisseur of women's hearts was resolved positively.
After the tragic death of the poet, Nicholas I paid all his debts, bought the mortgaged estate, assigned a pension to the family, and the works were published at the state expense.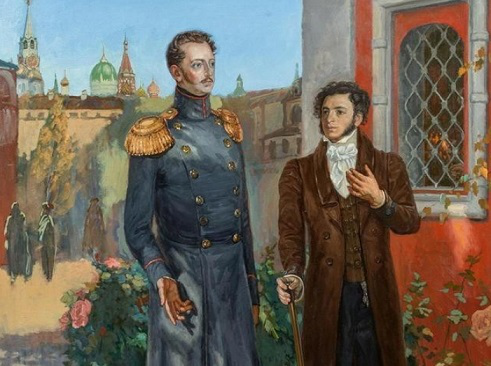 Pushkin and women: 'all women are lovely'
Being endowed by nature with an extraordinary appearance, far from classical standards, Pushkin enjoyed great success with the opposite sex. A subtle psychologist, he knew and understood women's nature, was able to impress with speeches and captivate with innate passion.
The so-called 'List', compiled by Pushkin himself, is known. It lists his 'victories' on the love front, the number of which is 37. The poet himself wrote that 'Natalie' became 'one hundred and thirteenth love', after his marriage, his philandering somewhat subsided. Although those who knew Pushkin well (including some ladies), not unreasonably claimed that 'as a poet, he considered it his duty to be in love with all pretty women'. And he did it, by the way, very successfully, hanging around the nobles, as well as maids, peasant women, and, 'all the young ladies were crazy about him'. The reason for this was his 'brilliant mind' and, of course, incredible charm.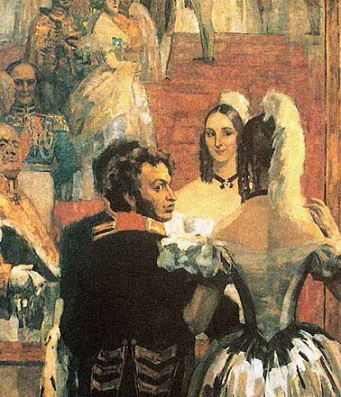 'The people's trail' takes us back to Pushkin again and again. Wherever you throw it, he has already written about everything, shown it, made fun of it. Politics, passion, the intricacies of human souls-all fully present in the works of a subtle psychologist and expert on human nature.
For that and grateful humanity responds with mutual love and man-made perpetuation of the memory of the great poet and prose writer, just an interesting Person, a genius sent to humanity from above.
Numismatists know a series of commemorative coins issued by the Bank of Russia for the 200th anniversary of Alexander Pushkin. It consists of seven coins, in denominations of 1, 3, 25, 50 and 100 rubles, minted from silver and gold, as well as a copper-Nickel alloy. The reverse depicts portraits of Alexander Sergeevich surrounded by characters created by him, as well as the famous monument to the poet of 1880, authored by Alexander Mikhailovich Opekushin.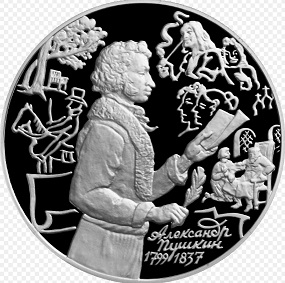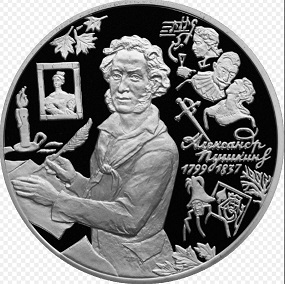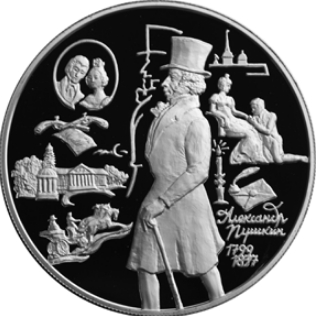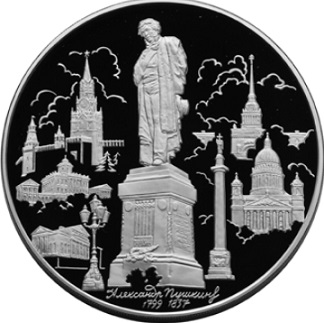 On the same date, Armenia timed the release of a commemorative silver coin with a face value of 200 drams in the amount of 500 copies.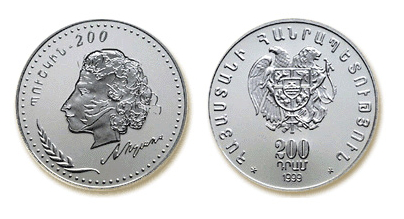 In 2009, the Republic of Belarus issued a series of coins 'fairy-Tale works of Alexander Pushkin', which included five colorful silver coins. The reverse depicts recognizable scenes from Pushkin's fairy tales, which each of us knows and loves from childhood.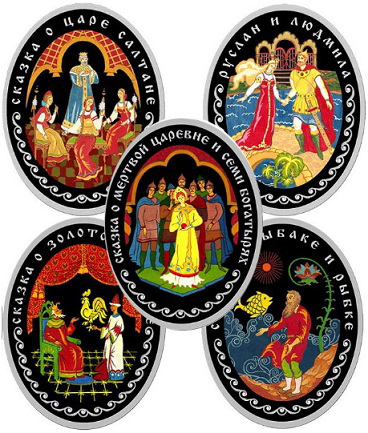 In 2012, the island of Niue released the 'Poets of the Golden age' series, which includes a coin dedicated to Alexander Sergeevich. Its nominal value is 2 new Zealand dollars, and its circulation is 8 thousand copies.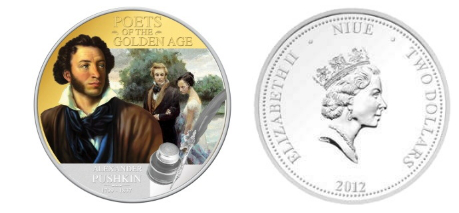 In 1937, the USSR issued a commemorative series of stamps dedicated to the poet's death.

Pushkin's bright personality is reflected in the philatelic products of the world. His works are studied in the school programs of many countries, and the characters are recognizable and loved. Postage stamps, blocks, couplings and sets of sheets are dedicated to the poet himself, his works, as well as memorable places associated with his life.