Banknote as a work of art
A curious fact of our history: during the difficult years of the Civil war, when the Russian Empire collapsed into several parts, each of which proved its right to a special path of development by armed means, and the people were starving, issuers of banknotes that had no experience in state construction sometimes produced such masterpieces that surpass most modern money in their beauty.
The bill of 1000 karbovans with the inscription 'Sign of Derzhavno Skarbnitsy', put into circulation in November 1918, was popularly called 'Hetman': it was during the short reign of Hetman Pavlo Skoropadsky that it was printed and appeared in the wallets of residents of Ukraine.
The bill can be described for a long time, but it is better to look at it and thank the artist Grigory Alexandrovich Zolotov (1882-1960) for this work of art.
In the scarce resources of 1918, the new paper money combined a painting in the style of Ukrainian Baroque with the requirements for state monetary signs, namely: relief dry printing (Congreve), watermarks 'wavy lines' and 'shining stars' or firnisova grid (in different editions) - to protect against forgery.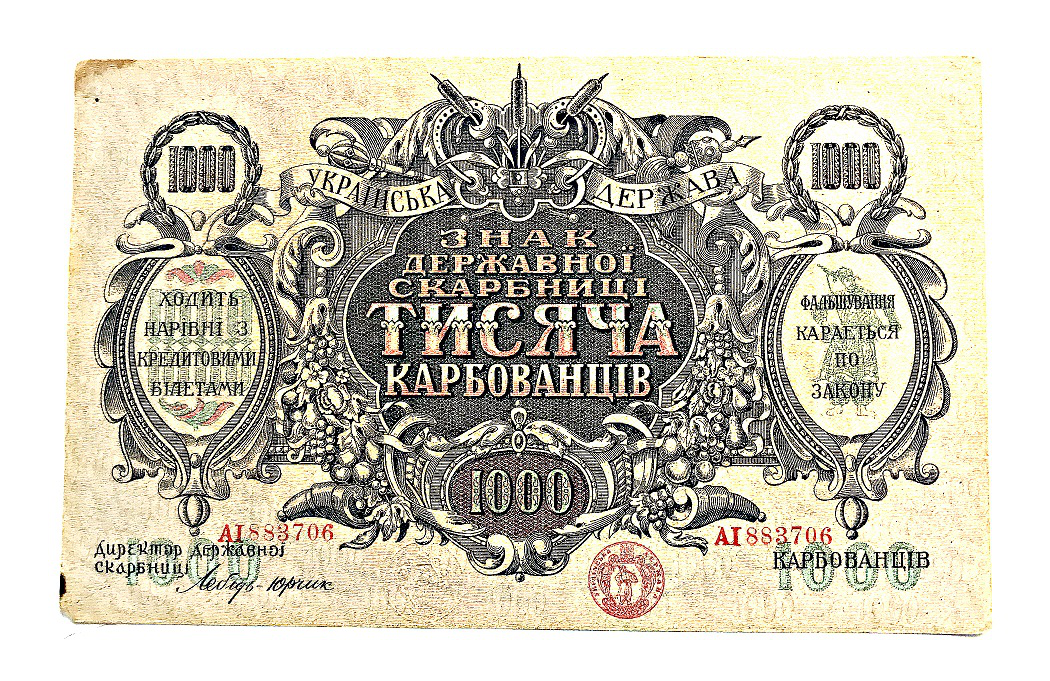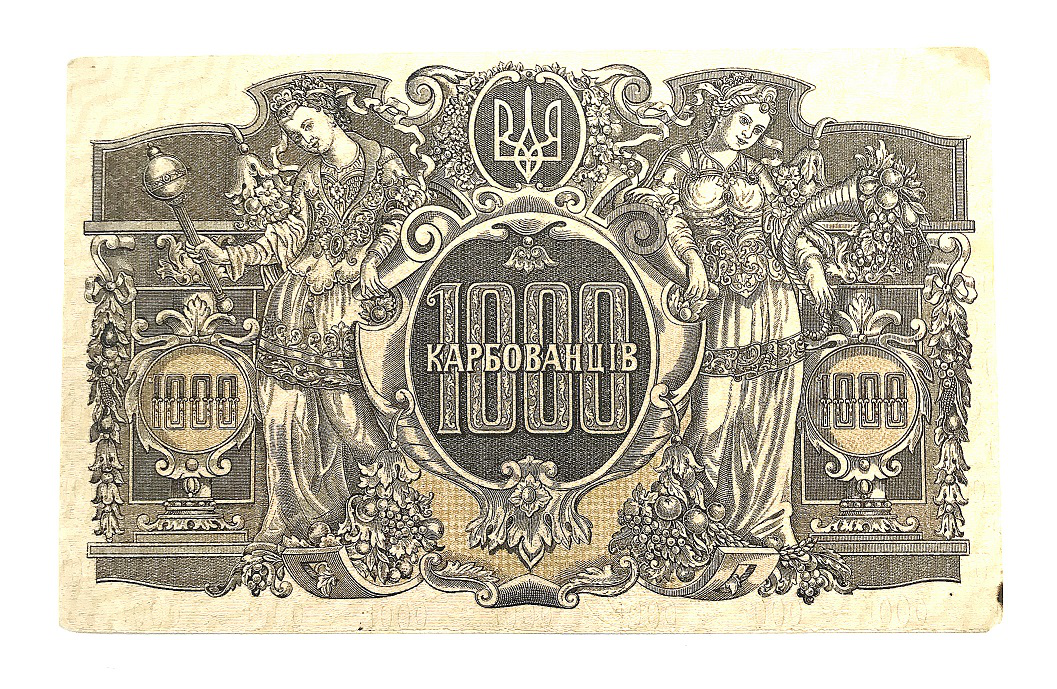 The bill resembles a well-preserved manuscript: light brown yellow paper, the pose and clothes bending girls, vintage Ukrainian state symbols – the Mace, a Bunchuk (a staff with a horse's tail) and a cornucopia.
Issued by the Treasury of the Ukrainian State, the ticket was a rectangle of rather large size (190 mm x 120 mm): the artist needed a large sheet of paper to place everything he had planned.
Judging by the AI series, this Treasury card belongs to the 4th issue of these banknotes and was printed in 1920 at the Laskauer printing house in Warsaw, where the government of Simon Petliura moved, not forgetting to take a cliche with them.
The bill bears the signature of the Director of the State Treasury, Khariton Mikhailovich Lebed-Yurchik: in M. A. Bulgakov's novel 'the White guard', he is certified as 'chief Petliura Treasurer'.
The 1000 karbovants note AI883706 - along with other symbols of the Sovereign Skarbnitsy - was withdrawn from circulation by the Bolsheviks. A pity: such beauty would be as pleasant to take out of your wallet as it is today to admire it in the collection.
1 000 карбованцев Украинской Державы 1918 г.