Mintmaster
Coinage at all times was - and still is - a process closed from prying eyes, as the output has a special product for the money. Therefore, the minting of coins always have been high demands - not only in terms of their appearance, but also due to the accurate regulation of the quality and quantity of material used – sample of the main precious metal (gold, silver, platinum) and the percentage of additives (alloys): a fuzzy implementation of the requirements could disrupt monetary circulation of the country. In any country someone has to monitor the implementation of these requirements and is personally responsible for their accurate performance, these controllers of coinage has historically been called a 'SyncMaster' from it. münzmeister — literally 'coin master'.
Signs of mintmaster on coins
How best to control the quality of any instrument, and simultaneously transferred to the person responsible for the content of the document? Granting him the right to endorse it with their signature. Here and mintmaster was enshrined in the historically right - to put the initials of mintmaster on the coin, minted in the mint.
lohann Luvis LANG
The first mintmaster in Russia were foreigners, respectively, and their initials were minted in Latin letters. ILL, IL, IL, LL, L, I – so branded coins under Peter I mintmaster lohann Luvis LANG, who held this position from 1707 to 1719 G.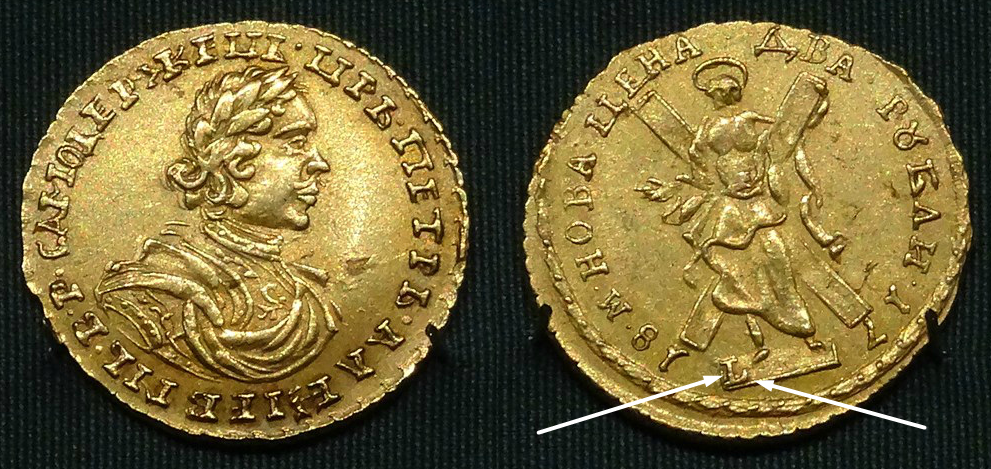 Diterik Leeffkien
Mintmaster Diterik Leeffkien also put on the coins the initials of the Latin – DL, though he managed to become Russianized, and responded to the name Timothy Levkin.