The genius of da Vinci in 1485, in his manuscript describes a kind of fixture, ('tent'), with which you can safely descend from any height. The material for it was used starched fabric, the size reaches 6-7 m. This idea formed the basis for the creation of a parachute, which later evolved into the managed aircraft streamlined form of airship. The first aircraft which came into existence in 1784, had the shape of an ellipsoid. He was driven by three propellers that were rotated manually with the help of 80 volunteers. Not shuttle, but the altitude and speed of handling it was possible.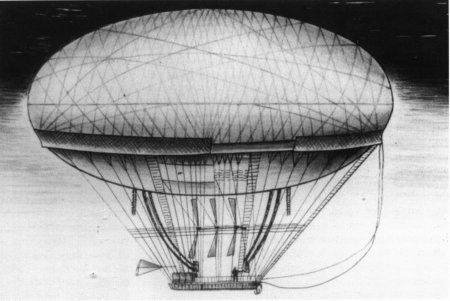 Mankind has wanted to fly. And in 1929 held the first ever round-the-world flight of the airship. The author that developed the project, was a German inventor and military leader, count Ferdinand Zeppelin. Is his name subsequently became known as all airships rigid structures, the most famous of which - LZ 127 'Graf Zeppelin'. The model reaches a monstrous length of 237 m and the diameter was 30.5 m. the Five motors was working on a special gas. Zeppelin 21 days was able to overcome more than 33 thousand km, went down to history as the ship made its first round the world flight.
This event in 1930, the United States Post office has even released an exclusive set of postage stamps 1930 Graf Zeppelin stamps.
They were designed exclusively for the marking of the correspondence carried on Board the air ship.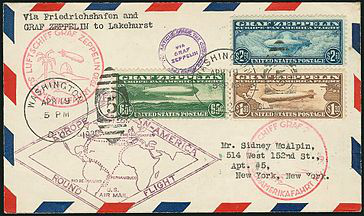 Коллекция марок Граф Цеппелин
But the height of the airship has 20-30 years of the twentieth century. During this period, getting to his feet the young superpower, the Soviet Union, where you really want to prove to the world that 'we have ours, we will build a new world'. Built in the Soviet Union - ranging from roads and power plants, and ending with population. Therefore, such promising sectors as the airship, the Soviet Union was given a key place.
The famous Soviet military leader and scientist of P. Ion in his work 'Airships and their military use' (1933) tells of the first low-power models of soft systems. For example, 'VI October', built in 1923, had a load capacity of 0.5 tonnes and a speed of 60 km/h.
Stalin was aware of the military significance and possibilities of the flying machines, so in a very short time the airship in the Soviet Union achieved great success. In September 1937 semi-rigid 'SSSR-B6. Osoaviakhim' surpassed LZ 127 'Graf Zeppelin', having made a round the world flight for 130 hours.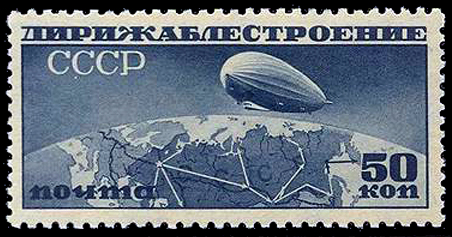 Soviet philately in this respect did not depart from us. In may 1931 he was issued an airmail stamp 'Slate blue blimp', which later became a rarity.