Of Katya, of petenka, kerenki, petkovci, kolakoski – in these 'nicknames' of banknotes is easy to discern the names of the statesmen of Russia, emperors, Ministers and generals. And in honor of a person is called paper money, known popularly chasingame?
June 1992, Krasnoyarsk region, Sharypovo, 40 000 inhabitants. Forming enterprise – Berezovskaya GRES-1. Shops, consumer services, sports infrastructure, canteens – all the balance of plant.
In the Russian economy – the gap of economic ties, inflation, and other delights of the transitional period, but the electricity needed to all, including those enterprises who have no cash to buy it, and without electricity even a tiny bakery bread will not bake. And if GRES does not receive money for their electricity than to pay wages to their employees, and their 4, 000 people whose jobs and feed their families – multiply by 3-4?!
In this difficult situation, the Director GRES-1 O. E. Shaposhnikov, on the advice of the chief accountant GRES-1 V. Chechenskoi decided to use the magic word 'offset' or 'barter', and agreed – not always, but in some cases, to accept payment in electricity products, everyday consumption of plant workers and their families. And in order to have something to show when you pay at a local cafeteria or the store decided to business executives on a regional scale that is the prerogative of the government to deal with the issue of paper money.
I must say that the people they were careful: the word 'money sign', word 'ruble' on Berezovsky bonds you will not see – they were replaced with 'payment instrument' and 'units' which, however, had its denomination from 10 units to 1,000 units.
Unlike officially went paper rubles, bearing the ominous inscription 'Counterfeit tickets .... punishable by law' the leaders of the GRES-1 could not refer to the law for lack of it, but they had sufficient authority in order to provide a product of its own issue stating unequivocally: 'Certainly for the outlets that serve Berezovskaya GRES'.
And his signature on the bonnet set: Director and GL.accountant. And to give added authority 'means of payment' drawn on paper 'SIBZNAK' icon R (copyright) – probably, the design is still registered.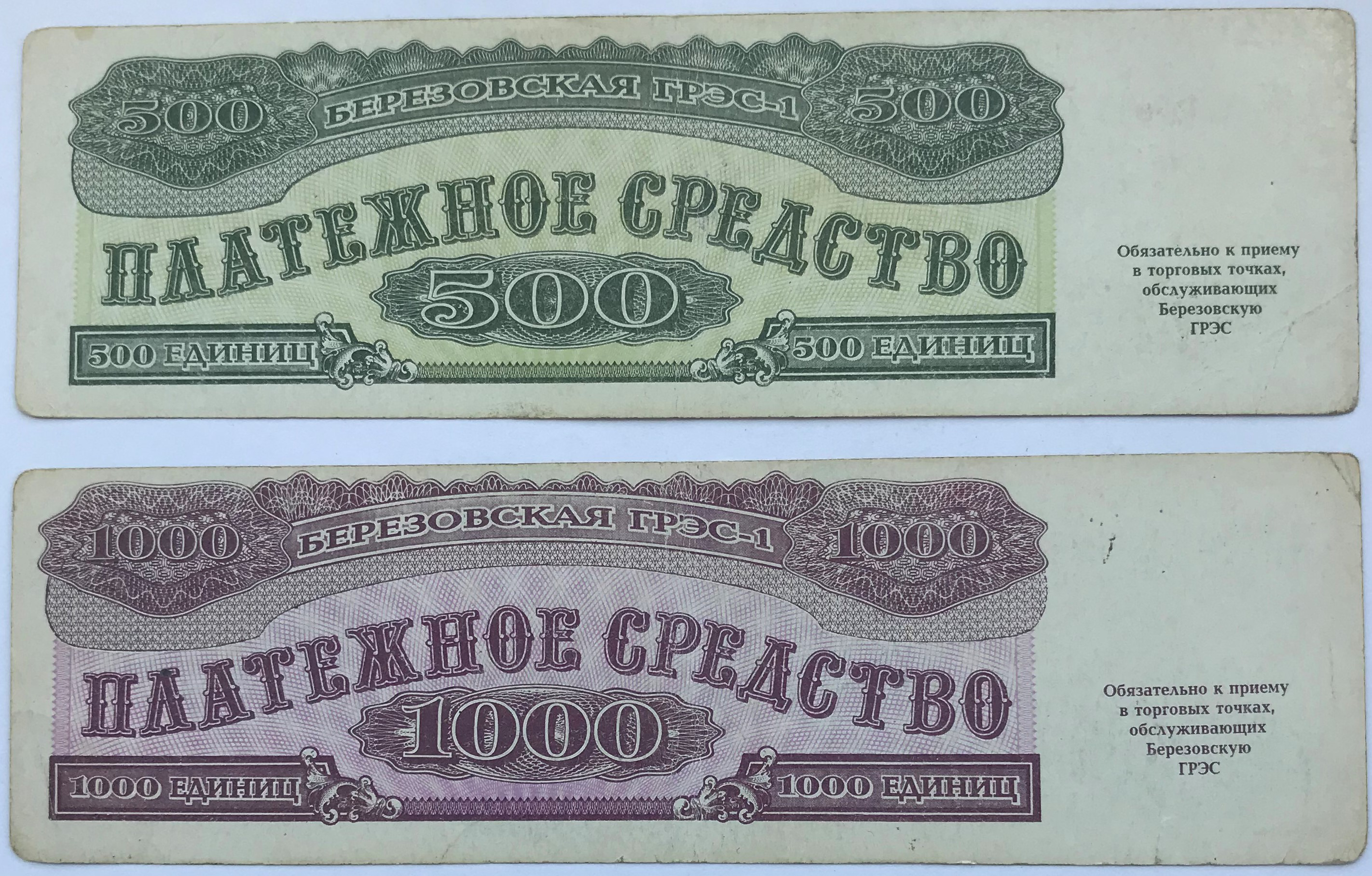 The abbreviation U. E. in the 1990-ies no one was misled: 1.e. = 1 US dollar. Berezovsky coupons, not deals on the currency markets, however could count on solid support from the leadership GRES-1 within the scope of his address and were accepted at the rate of 1:1 against the ruble.
Chechenki were in circulation from 1992 to 1996, what was the total volume of the issue – you know, probably only V. Cheshinsky.
I really wanted to find a photo on the Internet of this woman – not found, but sorry: not every accountant regional scale enters the story, and even gives his name for the name of money. It would not have this woman to have invented paper money collection paper money collectors.