Rare denominations: who and why needs it?
The value in 2 units of national currency rare among bills – 2 dollar bill United States was in company with 2 Chinese yuan, 2 Bulgarian leva, 2 Georgian lari and a small list is not the most well-known currency such as the Kwacha, Zambia, Ghana Cedi, Rufiyaa Maldives, Tala Western Samoa, etc. But that is typical – historically, Americans have been on this list first.
The first 'kopeck piece' the United States published in 1862, and then reproduced repeatedly in the new design in 1869, 1886, 1896, 1918, 1928
In 1966, already decided to stop their production, but in 1976, in connection with the 200th anniversary of the Declaration of independence could not resist and released a new two – probably really wanted propiarit painting by John Trumbull depicting the signing of the Declaration, which they placed on the reverse of the banknote.
Two-dollar bill has found a distinctive niche in the back.
Believing in lucky charms people thought that if you two gave, it will certainly bring wealth: 2 dollar bill need to constantly carry in your wallet and money in your wallet will multiply.
The bettors in a casino or at the races, believed that the rates kopeck piece is able to double the winnings.
And those, by nature of their work, rely on tips – bartenders, messengers – that 2 dollar bills preferred to give change in the calculation to get the tea the same two dollars instead of one dollar.
Given the photo a kind of the banknote by going in my collection.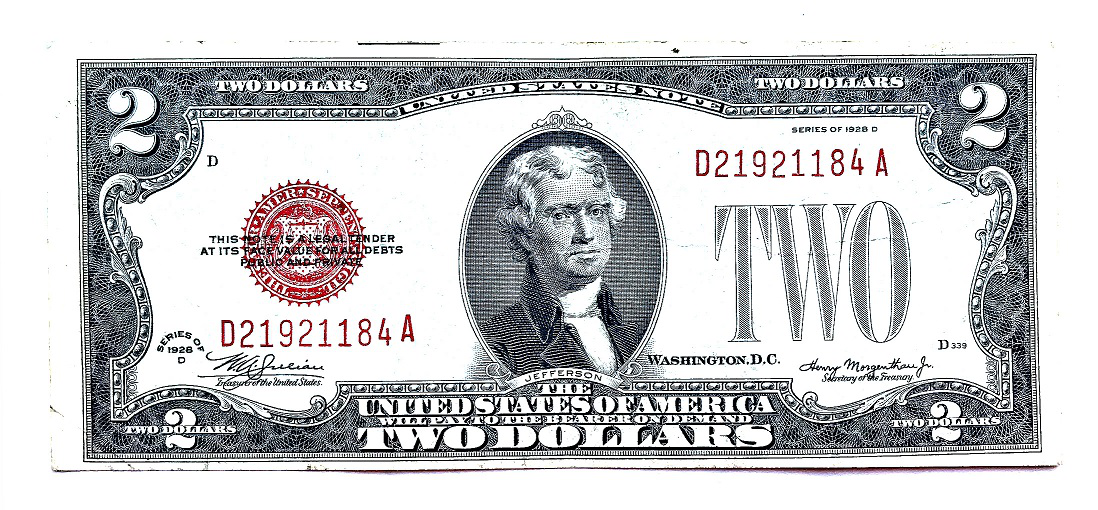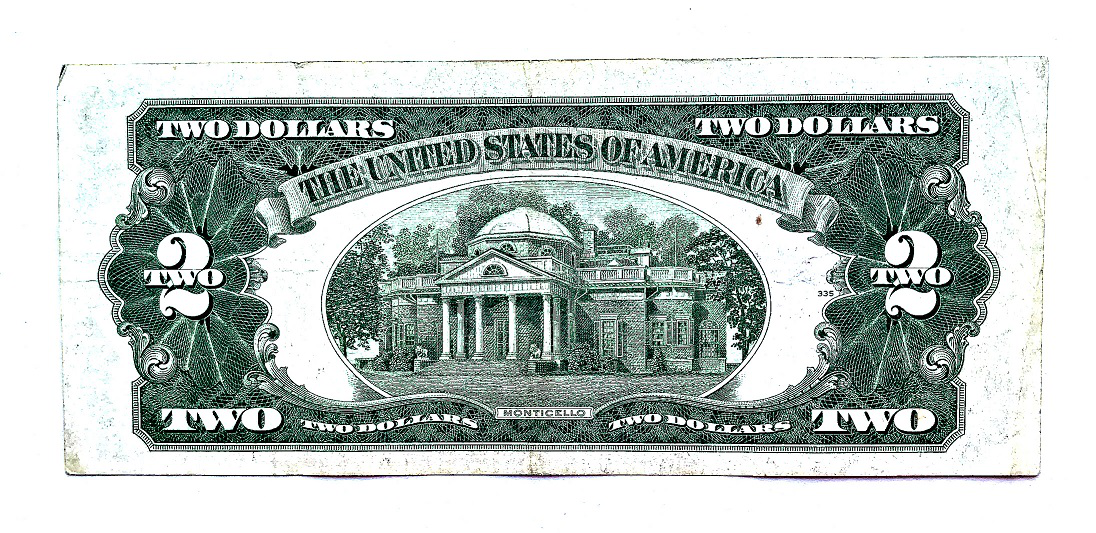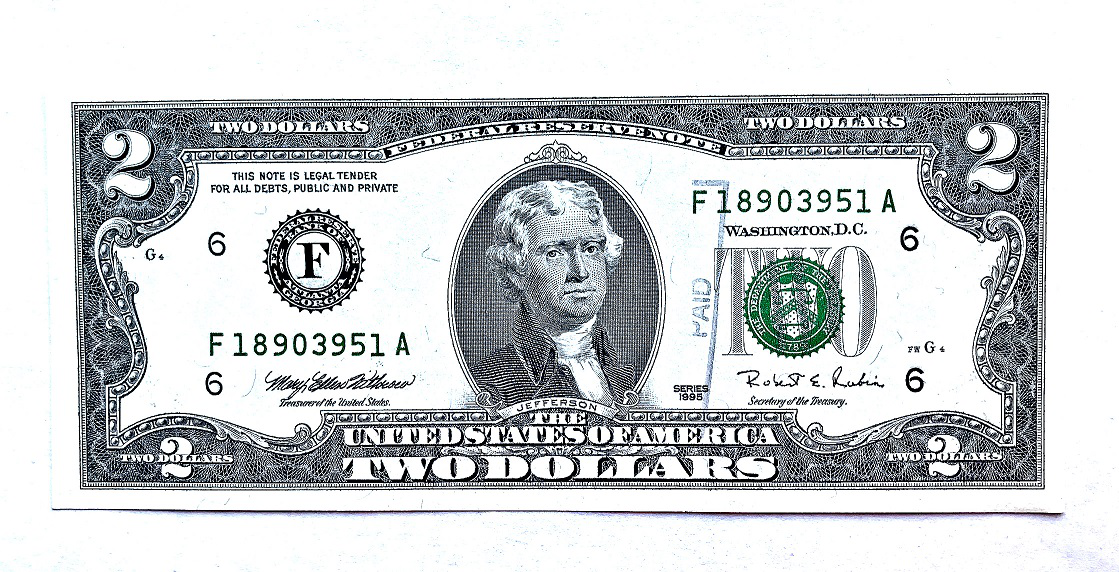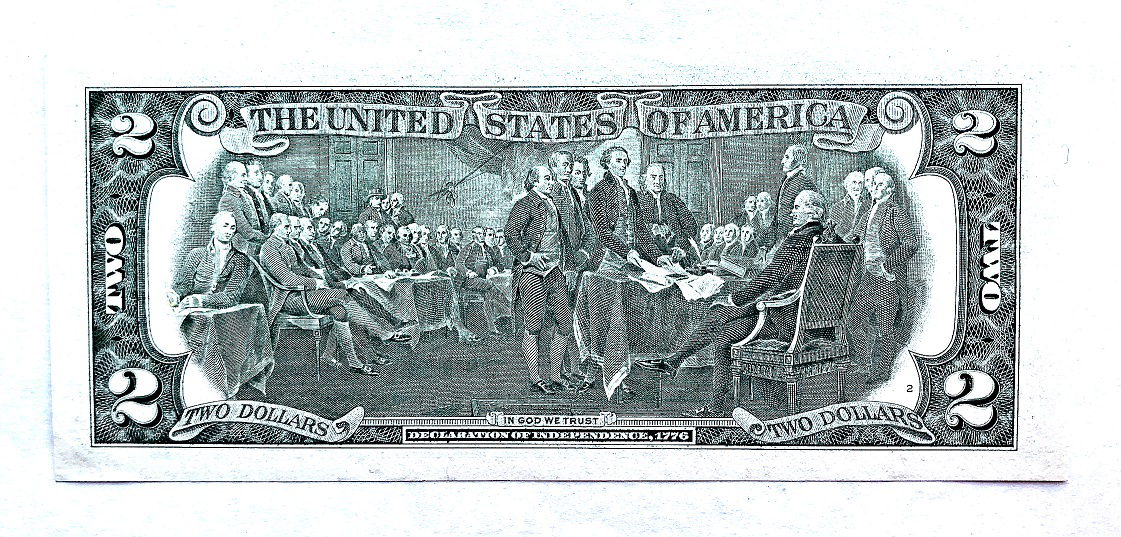 Kopeck piece with a red seal series 1928 D21921184 A was I offered a friend the cashier of a Bank in Western Europe: someone turned her in to the exchange Bank as a banknote issued in 1928 is still legal tender in the United States. I purchased it at the selling rate of the exchange office of the Bank as 2 ordinary us dollar.

Kopeck piece series 1995 А18903951 A was enclosed in the package with promotional materials, sent in my name to the Bank with the offer of cooperation. It wasn't a bribe: the message was written that this attachment senders had hoped to surprise me, and expressed the hope that this extraordinary marketing move will encourage me to finish reading their 3-page proposal before the end. The sender has reached his goal, but in part: I finished reading the 3-page message to the end. And then the text messages went to the trash bin, and attachment - in a collection of good luck: once kopeck piece was presented to me – so let it be for me a talisman, and banknotes and coins in my collection are multiplying.
2 доллара США
Country :
Соединенные Штаты Америки
Country :
Соединенные Штаты Америки